Girlprops
Beefy and I have an ongoing argument over our sunglass purchasing habits. I prefer quantity over quality. My philosophy isn't just based on my desire to create different looks with my eyewear. It's also due to the heavy use my shades get. They are on and off my face and stuffed into a purse, perched on my head or hung from my collar a dozen times each day. I don't have the time or the discipline to carefully fold them into a protective case each time I remove them from my head. So, I spend less than $20 a pop and go through 6 - 8 pairs each year. Beefy buys the namebrand, polarized, fancy sunglasses, babies them (i.e. makes me put them in my purse), and gets a good year of use.
1. Designer Inspired Pentagon Shaped Sunglasses with Geometric Print in Multi, $3.99.
2. Meow! Devilishly Cute Horned Cat Eye Sunglasses. Black Outside, Neon Lining! in Purple with Black finish, $3.00.
3. 1 5/8" Long Vintage Egyptian Cat on Pearl Earrings, Jonette Jewelry in Gold with Gold finish, $8.99. I added these to my cart to qualify for free shipping. That lure works every time.
(The ridiculous item descriptions are straight off the Girlprops website.
Target
4. White with black polkadot sunglasses, $12.99
DSW
5. Enzo Angiolini nude pumps, $37.28. Shoes like these are always a classic!
Kohl's
6. Peter Som for Kohl's shirtdress, $55.50. In two months, when I'm working in triple digit temps, will I regret buying a polyester dress (no matter how cute)?
7. Mudd festival shorts, $20.99. Beefy hates the shorts' doily detail, but I think that's the best part!
8. SO neon hoodie (although it doesn't look neon in this picture), $17.99.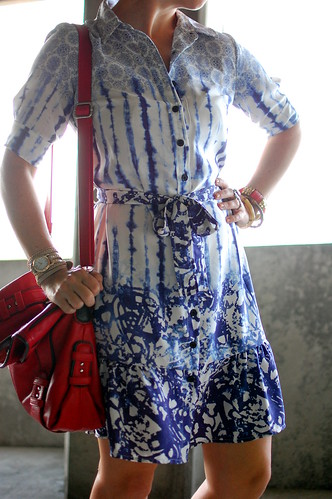 April total: $160.73
Total spending for the year: $595.42
Remaining 2014 budget: $1204.58.